Dredge Harbor
Dredge Harbor is a interesting cove cut into the New Jersey side of the Delaware River past (north) of the Pompeston Creek and South of the Rancoccas Creek Judging by the name it was part of a dredge operation but it was a while ago (1940 or before). The harbor contains several marinas -- Dredge Harbor Marine (http://dredgeharbor.com/ ), G. Winters Sailing Center (http://winterssailing.com/winterssailing/index.html ) , and Riverside Marine (http://www.yachtworld.com/riversidemarina/ ) all of which have slips, winter storage, and marine service. I know that Riverside & Dredge Harbor Marinas have gas and pump out service, and G. Winters has Pump out service (a lot of sail boaters carry their eyedropper of gas!)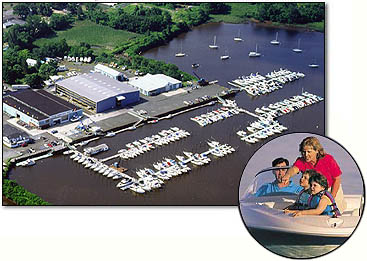 A photo of Dredge Harbor from their web site.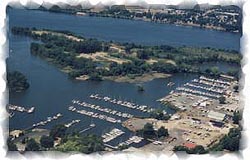 G. Winter's Sailing Center from their web site http://winterssailing.com/winterssailing/index.html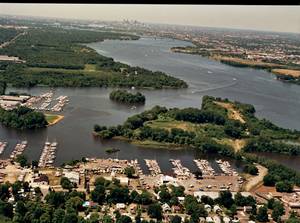 Riverside Marina & the Delaware River http://www.yachtworld.com/riversidemarina/index.html
Riverside Marina also has McCrossen's Dockside Bar & Grill where you can drive to or boat to and have good meal and a glass of adult beverage. I believe that they do have a place to tie up, but would recommend that you contact them by phone (856-461-6300) to find the rules and availability.
Dredge Harbor offers limited amount of anchor area on the right as you go in to the harbor, but at low tide going in is kind of hazardous, especially in a fixed keel boat. Because there is about 6' foot of tide, you need to keep that in mind when anchoring over night. It appears that a number of boats have fore and aft anchors as it does get kind of crowded. The anchorage is behind the small island in the center of the above picture (Riverside Marine photo). The small Island is a very popular bird rookery, and you will see Great Blue's, Snowy Egrets, Great Egrets, and night herons nesting, but please stay off the island. The southern side of the harbor is devoted to a tract of land donated to the Land Preserve by the Taylor Family and there is lot of good birding there also. It is a nice, quiet place to spend a weekend or an evening, but watch the buoy's and your depth gauge.

Sail Back